There are some of those words that call up another word in a split second. For example, search engine optimization and Google. Or vanilla and ice cream. Or what to think about social media and Facebook? Many words are easily linked with other keywords.
In our opinion, this form of association should be your focus when looking at search engine optimization. In this blog, you'll discover why it pays off in a search for the right SEO content strategy to shift your attention to entire search themes (phrases too) and how to do this smartly.
The importance of search phrases and themes for the optimization of your website
Adjustments that are made on 1 page, take 5 to 10 minutes and add up to thousands of extra visitors per month. It sounds too good to be true but it is also possible with your website if you know how to optimize it in the right way. Don't focus on what Google likes, but on your visitor. Ask yourself what questions your users have about a chosen theme. Do you know how to answer each of these questions in an appropriate way? Then you form an increasingly valuable source for your users, which does not go unnoticed by Google either. That the consequences of this strategy can be overwhelming proves a page that we developed around Content Creation. In this new strategy, a blind focus on the keyword 'content' made way for answering several questions about the theme of content creation.
As a result, people are able to find this page and at the time of writing, because it already ranks on 80 different keywords.
2 tools that help you build your SEO content strategy via search themes in a smart way
What questions do your visitors still have about your chosen theme? It is not easy to find out on your own. Fortunately, several tools have been developed to help you with this. We would like to introduce you to 2 of them:
Answer the Public
The tool Answer the Public helps you to get into the mind of your visitor and asks you to fill in only your main theme. The tool then immediately gets to work and provides you with a complete overview of all potential and relevant questions concerning this theme. Do you want to make sure that you don't skip any important questions? Write them down, together with all the relevant keywords that emerge from them, in an overview and arrange them in the same order. This will help you to set priorities in the future.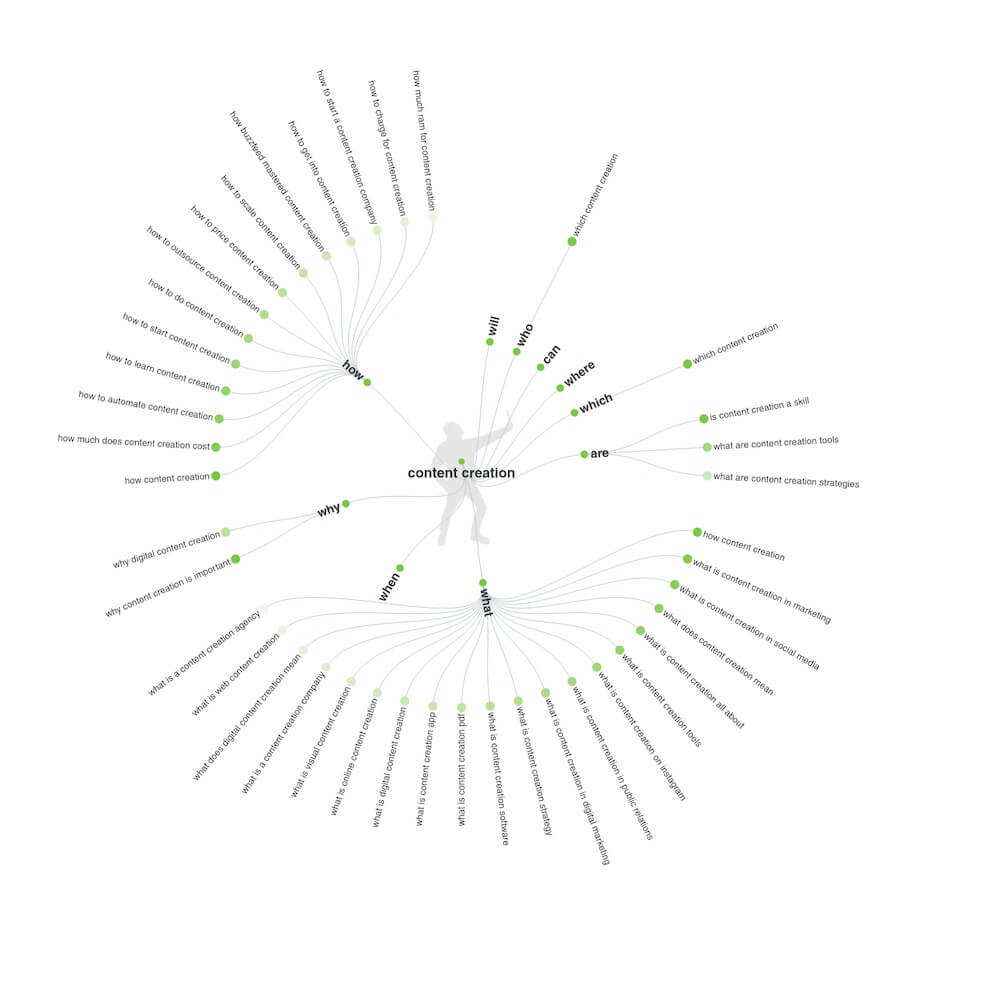 UberSuggest
As the name suggests, this tool offers you, through various suggestions, the possibility to get inspiration around a specific search theme. Also with this tool, entering this search theme is sufficient. To complete the picture, this tool also shows the extent to which each suggestion is searched for. As you are able to answer more and more relevant questions, not only the size of your website grows but also the number of keywords on which you score.
Optimizing your website on themes in 3 steps
Have all the efforts been made to ensure that you have a clear picture of the questions that exist in relation to your search theme? Then include these in an extensive keyword survey. This will provide the basis for the development of the most valuable resource that can be found on the Internet in relation to this theme. Which steps you then take are presented to you in three phases:
Step 1: Process keywords in all your titles in the hunt for website optimization
Basically, make sure that the most important keywords always appear in the titles and headings you use. The sooner your visitor can see what he or she can get out of your page, the better. Processing keywords in all your titles and headers contributes significantly to this. Feel more than free to combine multiple keywords for maximum effect. However, don't take this too far, make sure at all times that a text remains pleasantly legible and doesn't appear to be written by a robot.
Step 2: Add headings that are relevant and solve questions
Build, scrape and tinker with your page until it answers all the important questions you've been able to find out through your preliminary research. Don't just see each new heading as an opportunity to include new keywords, but above all as an opportunity to provide extra service to your visitor. Do you succeed time and again in providing your visitors with their needs? Then their appreciation will quickly translate into winning positions in the most important search engines.
Step 3: Stay sharp and replenish your content pages
Have you succeeded in answering many questions about the chosen theme on your page? Job well done! Time for a moment of rest. But not too long of course…The great thing about website optimization is that it doesn't have an endpoint. Make it a habit to ask yourself every month how you can add to your page or make it, even more, user-friendly.
Get started and score on those themes Where the number one position in Google simply cannot be guaranteed to everyone, we can give you one more good advice.
Pass, measure, research, test, test, check and keep adjusting.
Focus fully on your chosen theme and let the consequences surprise everyone.
Good luck!
Do you need help with your SEO Content Strategy?
Contact FML Marketing to get the most out of your content creation. We are SEO experts and believe that content should always be the cornerstone of your SEO strategy. Feel free to reach out to us with any questions you might have regarding this topic. We are happy to help!
Related Content Creation/SEO Strategy articles by FML Marketing
Content Marketing" The Start to Finish Guide
9 Reasons why Content is essential for SEO
Video Content Marketing Strategy: How to Get Started
WordPress SEO tips for your Website
Do the FML Marketing SEO Health check