Local SEO is a very hot topic. This comes as no surprise because we are increasingly mobile. In this mobile era, everyone has a smartphone, probably even your grandma!
Local SEO Marbella example
We are online all day and every day. Regardless if you are at home, working, or visiting a big shopping centre (Local example: El Corte Ingles). If you require info, you send an email, app or chat directly with the company you are interested in. Altogether, this means we can consult Google at all times. Let's stick with the shopping example. You are in Marbella and after three hours of extensive shopping, you are getting hungry. You do not feel like cooking and start searching for the nearest pizzeria in Google. In Marbella, there a quite some Pizza restaurants.

Local SEO and why it is relevant
Bottom line, we are increasingly searching for specific answers that are relevant in a particular situation. Naturally, Google responds to this with the search engine showing local search results. We can draw two conclusions from this: 1. Local SEO is more and more important for local business. 2. Your mobile website is inherently connected to this. Moreover, people who search locally are action-oriented, because they (quickly) need a store in the neighbourhood. finally, local consumers that take action online also have greater willingness to purchase and they convert more. Entrepreneurs and online marketers have therefore more often focused their arrows on local SEO, as it is called beautiful.
If you want to start with local SEO and you want to step into that boat, then it's good to know what happened before. Later in this article, you will find the 5 tips to get started with local SEO.
Local Google SEO: Memory lane
The algorithms of Google have been adapted over the past years. The Venice update in 2012 was the first major update for local SEO. Since then, search results depend not only on the country in which you were but also on the radius of your location. But visually the results page did not change yet. This changed after the arrival of the Pigeon update in 2014. There was more room on the results page for local results. With this update, Google could better estimate distances and determine more accurate rankings. Companies that were really locally active received higher local rankings.
What is important nowadays in Local SEO?
In 2017, we know that signals from local business activity (such as a page on Google My Business) are an important ranking factor to be found on Google. This is shown by research by Moz (Search Engine Ranking Factors). It also appears that links from other local websites are important (Local SEO Ranking Factors Study 2016).
5 Important tips to improve your Local SEO
There are many ways to rank better in local searches. Below we give you the 3 absolute must-do's that you have to perform if you want to be easier to find locally on Google. This is a good start to optimize later for local SEO.
1. 

Make your physical address visible
If you want local searchers to be able to find your company, it is, of course, important that they know where you are. Therefore, it is logical to state your name and address on your website. Maybe this sounds like an open door, but you'll be amazed at how many companies do not actually do this. Just pay attention. The address should preferably be as local as possible. In other words, the address must be as close as possible to the place for which you want to be visible in the local results.
2. Google Map
In addition, it is also advisable to literally put your location on the map. Add a map from Google Maps to your website (at least on the contact page). This way, visitors can immediately see where your company is on the map. You can easily create a new map via Google My Maps.
3. Create a business page for Google My Business (or check if it is updated)
The next step is to create and maintain an official page for Google My Business. You can also encounter this service from Google as Google Plus or Google My Business. You can manually set up 10 companies per location.
Example: FML Marketing Google My Business
The business listing in Google My Business is free. It is a possibility to give potential clients in Google a complete picture of your company. Provide detailed information such as opening hours, telephone number and directions. For SEO, the richer the content is, the better you can rank. This is the same for local SEO. So you can profile your company even better and have it scored by listing images, branches, reviews and news. Please note that this information matches what you have put on your own website to prevent conflicts. Then you verify that that is indeed your company. After you get a letter or a call from Google. The information you provide can already be displayed on the search results page. In this way, interested visitors can quickly find information, so it is very user-friendly to pass this kind of information on to Google My Business.
Become friends with Google
As you may know, Google is a fan of user-friendly initiatives (read: SEO and usability). If Google is a fan of something and you apply that, then you will be rewarded for it and you may get a prominent place in the local search results. That also contributes to reliability! 
Below another example, this time we are hungry in Estepona (yes and we go for pizza again!)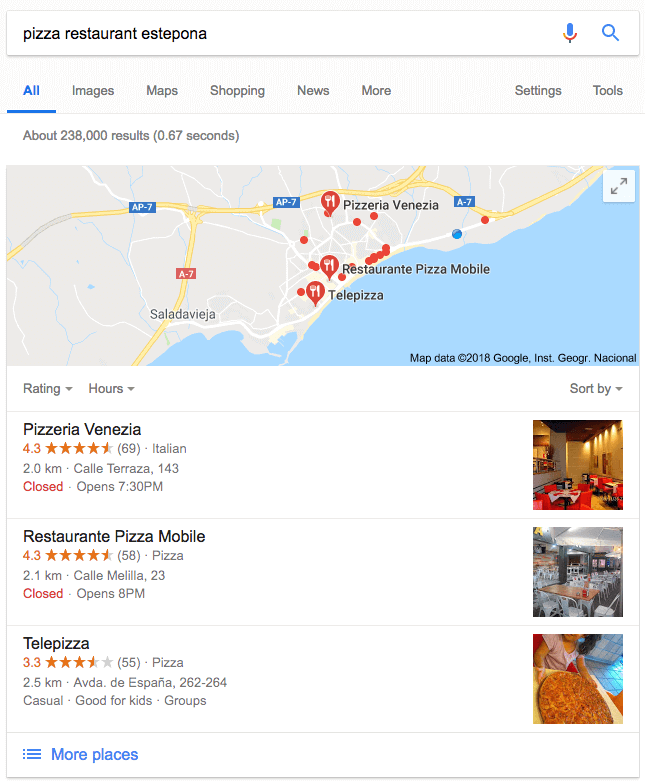 4. Write local content
In addition, it is also important to provide local information on your web pages. Use local search terms with local streets or places of interest. then put them in places where you normally also place search terms (such as in the title of the page, H1, URL, etc.). Also, provide information that people in the neighbourhood need. For example, if you are a real estate company in Estepona, it makes sense to write about the increasing short-term rental prices in Estepona.
Example 2
This information is different for each branch. Before the summer season starts, a popular restaurant in Estepona like Casa del Rey will probably share their new summer menu. First in the menu page, more detailed on the blog that is thereafter shared via the social channels (Facebook, Twitter, Instagram etc.)
5. EXTRA | Collect local backlinks
Finally, you can also collect local backlinks from, for example, company guides and directories. These are links to local companies, for example, the municipality, the trade association or a sports association. For local SEO it is valuable to collect them because you can emphasize your location for Google and increase your relevance.
Improve your local SEO with FML Marketing
Are you the owner of a local business in Marbella or Estepona? Do you want to drive more valuable traffic your website? With our full SEO solution, we can improve your Google Ranking fast and affordable. Primarily, we run a full audit of SEO performance on your existing website. Next, we analyze your best keywords and go to work! For clients that take our Ongoing Support Agreement, we can then monitor performance over time, and re-prioritise and re-target as we reach your goals.
[contact-form-7 id="480″ title="Form general"]