Do you already make use of videos for your company? Then you naturally want to take full advantage of your videos organically. Now the definition of 'optimal benefit' depends on your strategy. And that again has consequences for the hosting of your videos. In this article, I tell you everything about hosting and optimizing videos and the best keyword choice. What are the can haves, should haves, and must haves?
Rank higher on Google
Previously, Google showed a video rich snippet in the search results if the page was formatted correctly. Since the summer of 2014, this almost exclusively happens with results from YouTube. This caused major changes in video SEO: YouTube became a must-have instead of a should-have option.
Hosting on YouTube – A must have
If your videos are mainly for name recognition and a wide range, then uploading your videos to a platform like YouTube (or Vimeo for example) is a good idea. This way, the videos themselves will rank higher on Google. In addition, a video rich snippet (see image) and visitors of YouTube (the second-largest search engine in the world!) Can be found there. That is why YouTube is a must have. In addition, the YouTube player functions well and not unimportantly: YouTube is free. The disadvantage is that all traffic goes to YouTube itself and not to your own site. Converting is, therefore, more difficult and you do not benefit (in terms of SEO) from all clicks, likes, and shares.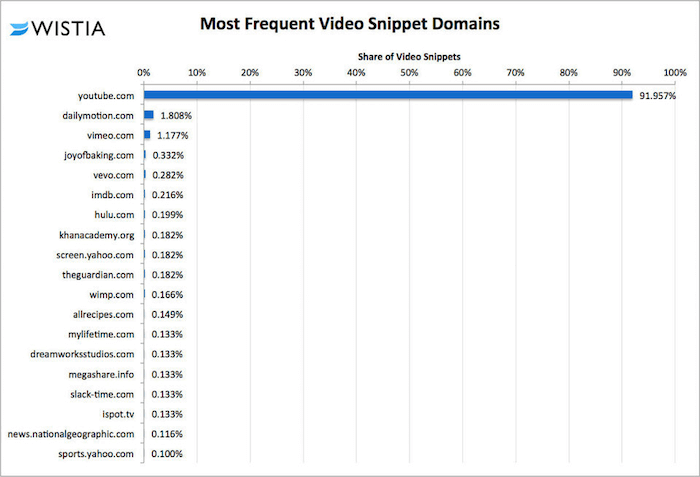 Self host or Wistia: could have
Do you want to achieve with your videos that your own domain rank higher in search engines and that you get more traffic and conversions? Then you have to make sure that you host the videos on your own server, or via a platform like Wistia. Although this costs money, it is the way to ensure that all backlinks and traffic arrive at your own domain. This is again favorable in terms of SEO value, and also makes it easier to make visitors convert. The disadvantage is that you are missing all traffic on YouTube and it is difficult to get high and striking rankings in Google.
Best of both: should have
If you're going to host your videos or use Wistia yourself, you can of course upload videos on YouTube to reach those visitors. You can use YouTube as a channel that you organize to send additional traffic to your own website. Crucial to this are, next to high vines, click through to your site. Make sure that it is as easy as possible to click from the YouTube video to your own domain. So there has to be a link at least once in the description, but you can also annotate in the video itself and make a final card. In addition, people must be convinced to click through. Think of visual, emotional, social and informational triggers.
Video Marketing Solutions Marbella & Estepona
If you are looking for professional advice for your business or promotional videos? Contact FML Marketing today, or visit our Video Marketing page first!