Ensuring the highest possible level of conversion is essential in the world of e-commerce. One way to get the most out of your options is to add display marketing to your marketing mix. It is important to know how to use display marketing. These four tips will help you achieve that.
1. Searching on your brand name
If you have professionally built up a webshop, you will be able to see your turnover growth in the first few years without applying many special tricks. After a few years, however, this could decline…Time to tap into new marketing channels. You can then, for example, choose display marketing. This is because in this way you can reach entire target groups that are of value to you. This is the group that is already looking for products that you offer.
Through this form of marketing, you can create awareness of your brand. The attractive thing about this method is that you can use it to approach new target groups via a Google Ads display campaign. This not only results in clicks but also in searches by brand name. This way, you will have double fun. Moreover, you can target your competitors and use searches including their brand name to trigger your ads!

2. Achieving multiple goals
For many, display marketing is a no go because the costs do not outweigh the conversions compared to other methods. At least…that is what they think! What they don't realize, however, is that the value of this form of marketing is more than just conversion. So it is also important to see this in the right perspective and to determine when your campaign is successful. Think of it as a similar way as a television effort. There is no direct conversion to be derived from this either. Think about the range of potential customers, the increase in reach for your brand. And guess what, it works wonders in combination with retargeting!
This is also called the engagement phase. You can then use the data that you have collected through display advertising, later on, to focus even more specifically on certain target groups. You can then tailor your message to them. After all, you ultimately want to reach and activate the most relevant target group. The available data helps you to easily identify these target groups so that you can work with them in a targeted manner.
3 A new opportunity for near-customers
Display marketing is the way you can alert new customers to your name. It's also the way to make visitors who didn't become customers aware of what you have to offer. For example, you can use a banner to approach them again about the product they have viewed, or sometimes even put it in their shopping cart, but did not buy it.
There is a method that works very well. This is, of course, dynamic remarketing. It is a way to show a product that is known to have been viewed by the visitor. This offers an important advantage. After all, you know exactly which product to market in the banner. It can help to link a special offer to it.
4 Ensuring clear recognition
The last point to think about is the recognisability of your brand. After all, display marketing allows you to visualize your brand for potential customers. Advertisements via search engines do not offer this possibility. It has long been known what value the recognizability has in terms of increasing a market share.
That is why this form of marketing can coexist with, for example, regular search Google Ads. This gives you an extra opportunity to work with logos, colours and house styles. These are all characteristics that can influence your (future) customer. This is even a strengthening factor when you consider how wide the range of display marketing can be. If you use banners for near-customers, then recognizability is also a factor that will trigger them!
The value of display marketing
In short, display marketing serves several purposes. It makes customers aware of their needs. It offers opportunities to re-invigorate near-customers. It provides more reach and increases brand awareness. Moreover, it provides a visual component and recognizability.
Thank you for reading Why Display Marketing should be on your mind in 2020. Feel free to leave a comment below, or to get in touch with FML Marketing if you wish to learn more about the opportunities of display marketing.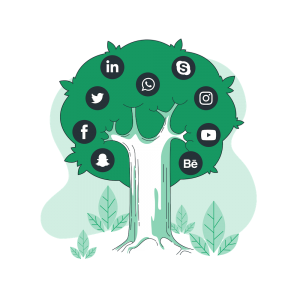 Every day, new and exciting ways to leverage social media for business arise, and staying [Read more]