Social Media for YOUR Restaurant
Social media is playing, nowadays, an important role in our daily lives. Potential guests for your restaurant also use it every day. Facebook, Instagram and Twitter are therefore becoming increasingly relevant to attract new customers, but they also determine the image of your restaurant. Here are 12 tips for using social media for your restaurant.
MORE ABOUT SOCIAL MEDIA
1. Create a Facebook page
Facebook is one of the most efficient channels to promote your restaurant. You can use it to increase engagement with customers, promote certain events or bring people together. By creating a page on Facebook, you can interact with (potential) guests.
2. Encourage guests to check in on Facebook
The best advertising is word-of-mouth. By asking your guests if they want to check in at your restaurant on Facebook, their Facebook friends see that they are there. But how do you get the guest to check in on Facebook? For some customers, encouraging alone is enough. Others must be motivated. You can do that by offering exclusive deals or discounts. For example by giving away a free drink or by giving a 10% discount on a next visit.
3. Provide regular updates
It is important that you post information regularly on your page so that the regular fans stay involved with your restaurant. This does not have to be extensive information, a picture of a dish for example can already suffice.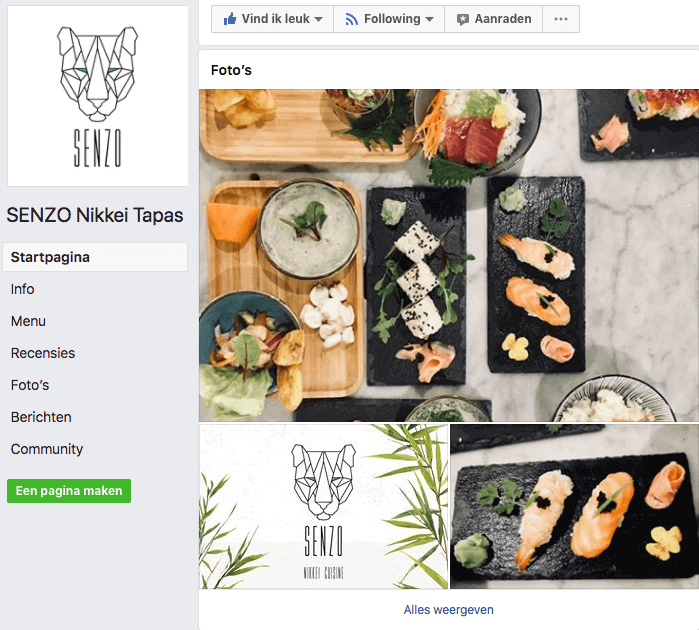 4. Be very responsive to messages
Interaction with the guest is important, especially on Facebook. The way a restaurant communicates with its Facebook followers says something about how much they care about the customers. Someone who never gives a response to a question from a guest shows that he or she is not involved. If you get the 'Very responsive to messages' badge from Facebook, you show guests that you care about their opinions, interests and needs.
5. Use Facebook Advertising
By using the Facebook advertising, you can easily appeal to a specific target group. Facebookers provide a lot of information about themselves. Think of residence, gender, age but also what they like and do not like. Anyone running a restaurant can easily reach an audience in this way. Facebook has this information, you just have to indicate which target group you want to reach.
6. Provide high-quality photos
People are visually oriented. Studies show that the human brain processes an image 60,000 times faster than text. It is therefore important that the images and photos you post on facebook or twitter are of good quality. But it is also important that the photos match the message of your brand.
7. Create a Twitter account
Tweet at least twice a day. No matter how busy you are, it is important to be active on Twitter. Try to send at least two tweets per day. To save time, you can plan ahead with apps like Buffer and Hootsuite tweets.
8. Claim your Google+ Page
Most of your customers will spend time on Facebook and Instagram. Nevertheless, there are great opportunities involved with creating and claiming a Google+ Page (Google Business). A Google-friendly profile makes your restaurant 'searchable'. When people search Google for a special type of restaurant, yours may appear at the top of the search results. This can result in more business.