Facebook is great to build a free fanbase and to reach your fans regularly. And with good content, you can get far, but not everywhere. With Facebook ads (or Facebook ads in short) you can increase your impact on Facebook exponentially. Okay, it's not free, but what is it in life? If you do it right, you will be able to make a good return on your investments.
We manage several large accounts within our company. Accounts that spend over 1000€ per month on social media advertisement. But Facebook ads can also work for you on a small scale. You can already start at 5 euros a day and can work very flexibly.
You may have heard stories about people boosting posts and only getting likes from false profiles. Indeed, this happens regularly when you use the Boost button.
Facebook Business Manager
But if you handle your Facebook ads properly, you don't use the Boost button, but the Facebook Ad Manager. Sounds difficult? It really isn't. In this blog post, I'll give you a beginner's training on Facebook Ads.
1. Why advertise on facebook?
Facebook is a huge platform. There are approx. 1.5 million registered people on the Costa del Sol and 75% of them even login daily. Moreover, you can find any target group on Facebook. You can use all the information that Facebook collects about its users to better attune your target group.
Unlike Google Ads, you don't target keywords, but target groups. So you don't have to wait for someone to look for keywords that are about your product and then try to place the highest bid. With Facebook ads, you can create the need yourself.
Facebook Ads is very flexible. You can start from 5 euros (per day) to hundreds or even thousands of euros per day. But above all: With Facebook ads, you can increase your impact enormously. Much more than is possible if you only focus on organic reach (or hope for viral reach).
2. Types of ads on facebook
Facebook has different types of advertisements. There are 3 major categories:
Awareness
Considerations
Conversion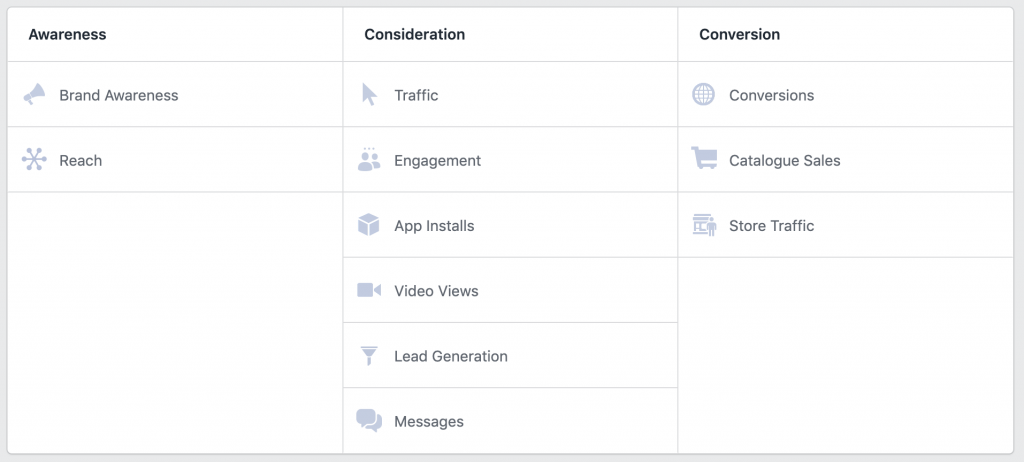 Maybe these words sound familiar to you, or do they ring a bell? They follow (more or less) the funnel or funnel in which your customers come before buying from you. Important for you to start is that you decide what you want to achieve with your advertisement. Start with the end in mind!
What do you want the ad to do? Do you want to reach more people with your update? Or do you want people to like your page? Do you want people to see your video, or do you want them to click through to read your blog post or even download your e-book? Depending on your choice you will get different options, your ad will look different and will be optimized differently.
Facebook Advertisement: campaigns in three layers 
We keep saying "Facebook Ads", but a Facebook ad is more than just an ad.
Facebook ads are divided into 3 levels:
Campaigns
Ad sets
Ads
A campaign contains one or more ad sets. And each ad set contains 1 or more ads.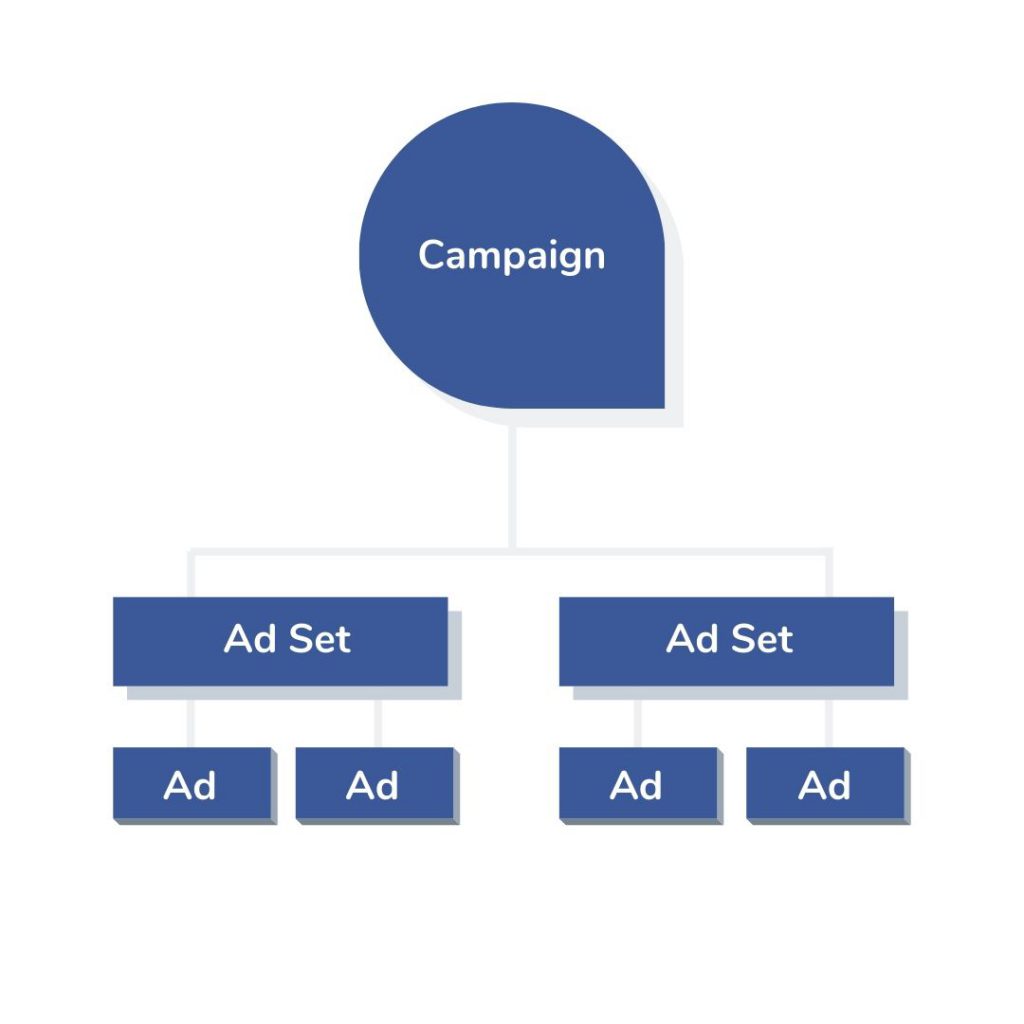 There are a number of settings at each level
1. CAMPAIGN LEVEL
BIDDING TYPE:
The bidding type is fairly new on Facebook ads. You can choose between "auction" and "range and frequency". Range and frequency is mainly used for large campaigns. So I advise you to always go for the "auction" principle, where you automatically let Facebook bid for your ad. It may sound complicated but it isn't.
OBJECTIVE:
What do you want to achieve with your ad? Each campaign has one specific objective. If you have multiple objectives (e.g. more likes and more visitors to your website) you have to create 2 campaigns.
2. AD SET LEVEL
GOAL GROUP:
Here you decide who you want your ad to see. You can set up target groups on the basis of Facebook data, or on the basis of your own data (e.g. website visitors or people on your e-mail list).
PLACE:
Where do you want your ad to be displayed? You can choose between computers vs. mobile, and between Facebook News review, Facebook Right column, Instagram and the reasonably new Audience Network (ads on other websites).
BUDGET & PLANNING:
Here you determine your budget and the duration of your campaign. You can let them run endlessly, only for certain days, or even only for certain moments of the day.
3. ADVERTISING LEVEL
INDICATION:
The classic ad has 1 image, but you can also create a video, a carousel (multiple images next to each other) or a slide show for your ad.
MEDIA:
Once you've chosen your format, choose the photos or videos you want to advertise with.
TEXT:
In addition to an image or video, you can also add text to your image. In any case, the text above it, but in the case of links, for example, the text below it as well.
PAGE & LINK:
Every ad on Facebook starts from a page. Here you determine which page (or which Instagram account) and where the link should lead to.
Note: if you promote your posted messages, you can no longer make changes to the text and image of the post itself.
Facebook is an auction system
Facebook ads work through an auction system. There are only limited places for ads to show to the people. Your ad will be shown to a person if you make the highest bid at that time. Well, that sounds complicated, but this all happens in fractions of a second and is fully automatic. All you have to do is decide how much you want to pay the maximum to display your ad. There's a lot going on technically, but the most important thing to know is that the price you ultimately pay is influenced by the target group you target and the performance of your ad. The less active advertisements (from other bidders) to your target group and the better your ad works (conversions, engagement, landing page experience), the less you will pay.
Selecting the target group
On the Costa del Sol, Facebook has over 1.5 million users. And it would be nice to reach all 1.5 million, but not really realistic (unless you have a huge marketing budget.)
Suppose you could call 10 people from your address book to sell your new offer, would you choose 10 first or would you go for a selection of 10 people who you know are most likely to buy effectively?
The same applies to advertising on Facebook. The better you select who can see your ad…your target group, the better your results will be. The better you define your target group, the more people will click. And if people click quickly, you will pay less per click than if no one ever clicks. See the bidding system above.
That's why it's important that you make your Facebook advertisements as close as possible to your target group. Look at it this way: the more of those 1.5 million people you exclude, the less "waste" you have. The fewer people you reach who will never click (and buy).
How to select your target group
You determine your target group on the basis of data from Facebook, such as age, place of residence, gender, language, but also interests, employer, position, …
Play around with the options, add things and especially get started with "detailed target groups". Try to reach your ideal customer on that basis. Here you can choose the suggestions from Facebook (browse through the categories), or you can type something yourself and choose from the options that come up. If the option is not available, you can't target it.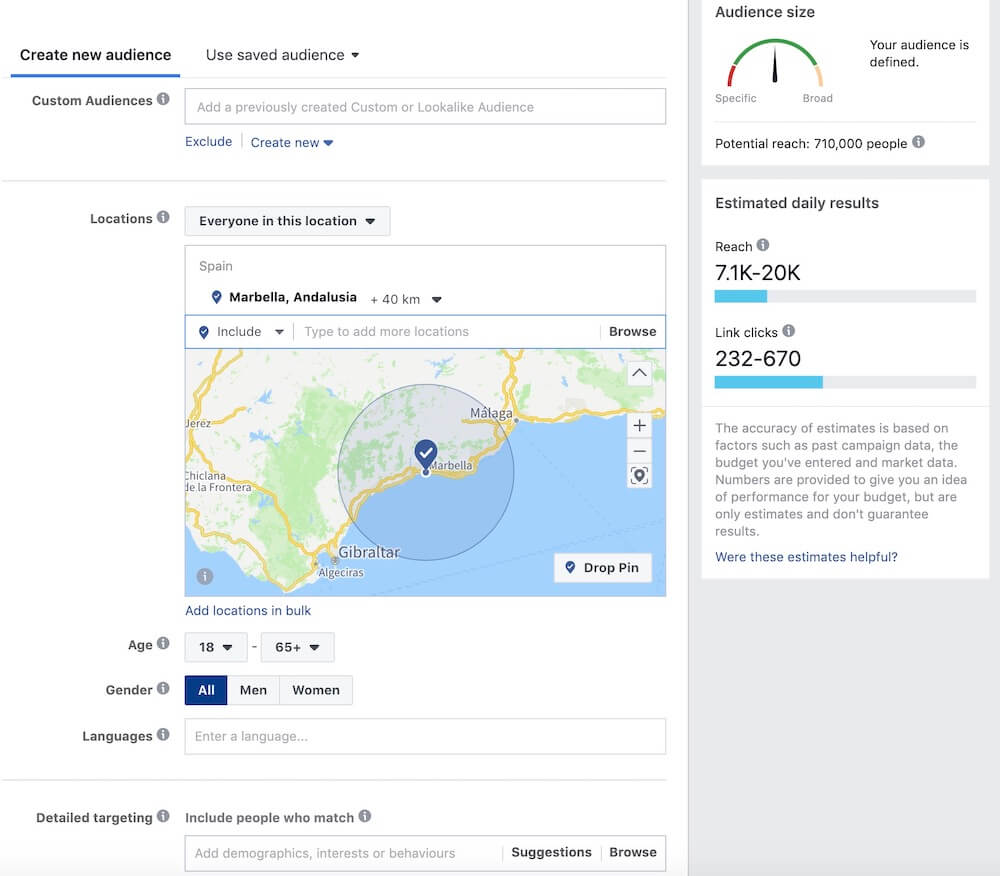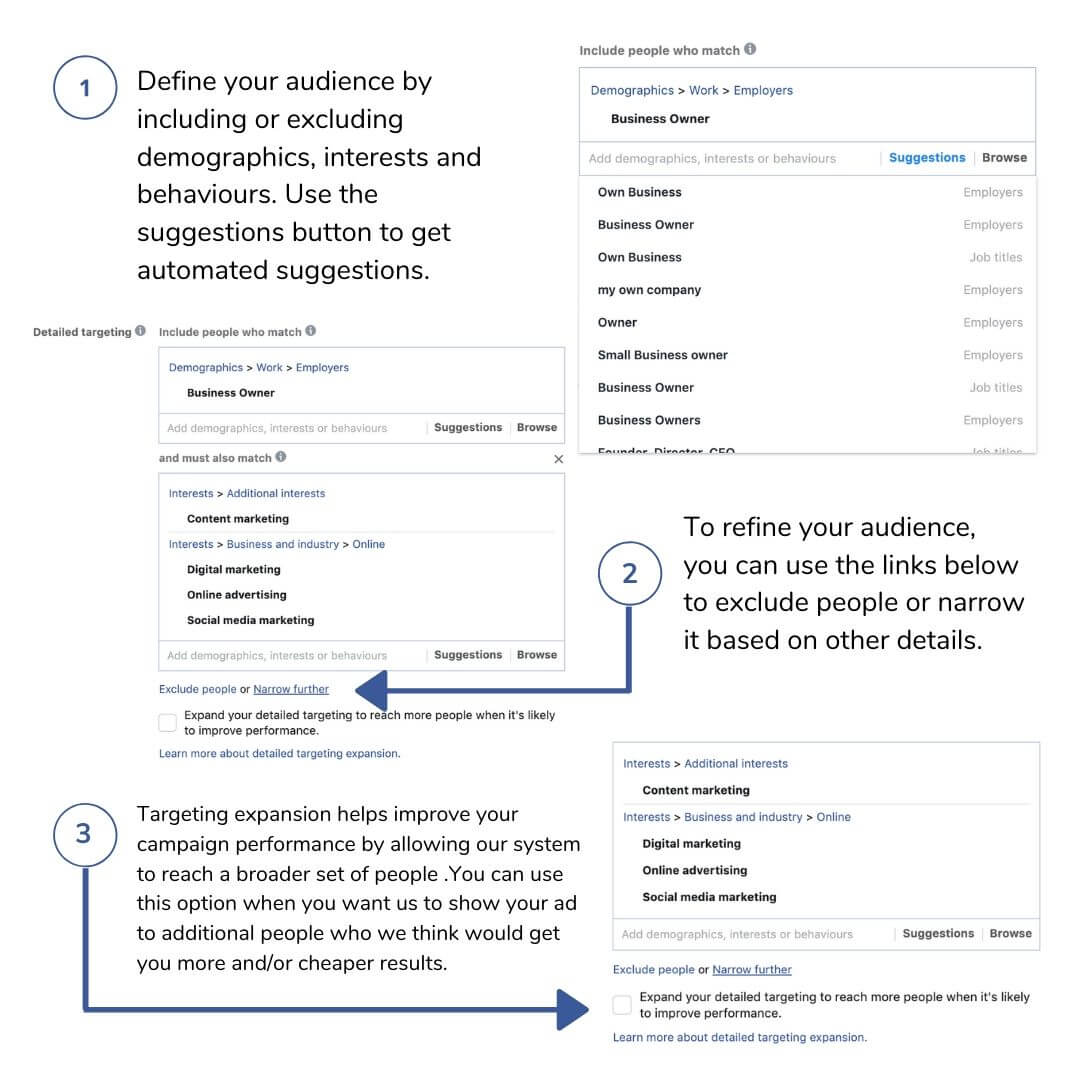 In addition to these options, you can also target based on your own data, such as retargeting of people who have visited your website or people who are on your e-mail list. But that's something we will cover in other, more in-depth blog posts. For now, let's focus on the target group and the regular options within Facebook Business Manager.
Protip: You can put different types of target groups in different ad sets to test them against each other.
The creative (ad)
Finally, I'd like to discuss the creative. So the advertisement itself. Work with images or videos that attract attention: Bright colors that break the pattern of Facebook. And work with texts that appeal to and convince people. Preferably put no or as little text as possible on your image. Images of which more than 20% of the surface contains text will work much less well.
Protip: Create different images and texts and test them in each ad set.
Related article: How to build a professional Facebook Page
Getting Started with Facebook Ads
You now know the basics of Facebook ads. Now it's mainly a matter of GETTING STARTED. If you need any help, or if you do not have time to do this yourself, contact FML Marketing. We are a professional online marketing agency. Specialized in online advertisement on the Costa del Sol. We are located in Estepona, between Manilva and Marbella on the Costa del Sol.